NEWS
PROGRAM
TICKET SALE
WHO ARE WE
ARCHIVE
season 2020 - 2021
season 2019 - 2020
season 2018 - 2019
season 2017 - 2018
season 2016 - 2017
season 2015 - 2016
season 2014 - 2015
season 2013 - 2014
season 2012 - 2013
season 2011 - 2012
season 2010 - 2011
season 2009 - 2010
List of works
JUBILEE 100 YERAS
LINKS

---

announcements:
Program season 2020 - 2021
Subject to possible changes in the program
---
TUESDAY 20 October 2020
CANCELLED. No new date.
20.15 p.m.

BENNEWITZ QUARTET (Czech Republic)
| | |
| --- | --- |
| Jakub Fišer | Violin |
| Štěpán Ježek | Violin |
| Jiří Pinkas | Viola |
| Štěpán Doležal | Cello |
PROGRAM
| | |
| --- | --- |
| Janáček | String Quartet no. 1 ("Kreutzer Sonata") |
| Beethoven | String Quartet opus 59 no. 2 |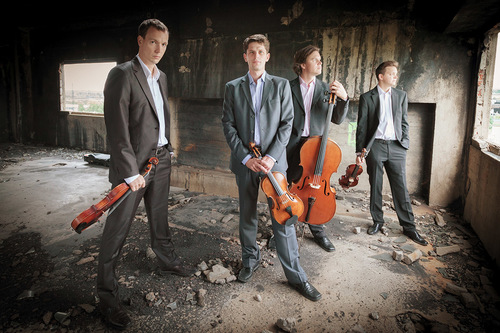 The Bennewitz Quartet is one of the top international chamber ensembles, a status confirmed not only by their victories in two prestigious competitions – Osaka in 2005 and Prémio Paolo Borciani, Italy in 2008, but also by the acclaim of the critics. As early as 2006, the German Frankfurter Allgemeine Zeitung wrote: "... the music was remarkable not just for its clarity of structure, but for the beautiful tonal palette and purity of intonation in its execution. Only very rarely does one experience such skillfully crafted and powerful harmonies... Great art." The ensemble has received various awards on the Czech music scene as well. In 2004 the quartet was awarded The Prize of the Czech Chamber Music Society and in 2019 the four musicians won the Classic Prague Award for the Best Chamber Music Performance of the year.
The quartet currently performs at major venues both in the Czech Republic and abroad (Wigmore Hall London, Musikverein Wien, Konzerthaus Berlin, Théâtre des Champs-Elysées Paris, The Frick Collection New York, Seoul Art Center, Rudolfinum and others), and is regularly invited to festivals such as the Salzburger Festspiele, Luzerne Festival, Rheingau Musik Festival, Kammermusikfest Lockenhaus, and the Prague Spring. The group has had the privilege of working with the outstanding artists: Jean-Yves Thibaudet, Alexander Melnikov, Vadim Gluzman, Isabel Charisius, Pietro de Maria, Reto Bieri, Danjulo Ishizaka and others.
The Bennewitz Quartet especially enjoys playing and performing on the Czech domestic music scene. Particular highlights have included their cooperation with the Czech Philharmonic Orchestra and its conductor Jirí Belohlávek for a performance of Bohuslav Martinu's Concerto for String Quartet and Orchestra. The group has made a recording of both quartets by Leoš Janácek for Czech Television in the unique space of Villa Tugendhat in Brno. The Czech Radio regularly records major concerts of the quartet.
The fruits of their long-term cooperation with the Coviello Classics label include a recording of Leoš Janácek's two string quartets and Béla Bartók's fourth. The critics' response was very positive. The magazine Fono Forum was impressed by the "fiery temperament". The second recording in the series, released in spring 2010, contains both of Bedrich Smetana's quartets. The website Klassik.com called it "simply phenomenal". Their next project was the recording of Antonín Dvorák's complete Cypresses cycle, on the Hänssler Classic label, followed by the recording of quartets op.51 and op.106 on the SWR music label.
The members of the quartet put a lot of stress on the inspiring and sometimes challenging choice of their concert repertoire. In 2012 and 2015, the ensemble performed in a sole evening the complete of Bartók's six string quartets in Maggio Musicale Fiorentino and in Swedish Upsala. In 2014, the four presented a premiere of The Songs of Immigrants by Slavomír Horínka in Konzerthaus Berlin. In 2019 the quartet added a new CD in its discography featuring the music of the persecuted Jewish composers H. Krása, V. Ullmann, E. Schulhoff and P. Haas on the Supraphon label.
In the 2019/20 season the Bennewitz Quartet will return to Elbphilharmonie Hamburg and Izumi Hall Ósaka, where the group received the gold medal for the winner of the Ósaka String Quartet Competition and Festa 2005. The quartet will take part in the complete performance of the string quartets by Ludwig van Beethoven in Orléans and will appear as solo players in Absolute Jest by John Adams in cooperation with the Prague Symphony Orchestra under Michael Sanderling.
Since 1998 the quartet bears the name of the violinist and director of a music conservatory in Prague, Antonín Bennewitz (1833-1926) who contributed greatly to the establishment of the Czech violin school. The most significant musicians who count among his disciples are Otakar Ševcík and František Ondrícek and above all Karel Hoffman, Josef Suk and Oskar Nedbal who, under Bennewitz's influence, formed the famous Bohemian Quartet.
Homepage: www.bennewitzquartet.com

EXPLANATORY NOTES (Dutch only)
back
---
TUESDAY 17 November 2020
Definitively cancelled.
But we have been able to include the Jerusalem Quartet in our 2021/22 series as a new concert.
20.15 p.m.
JERUSALEM QUARTET (Israël)
| | |
| --- | --- |
| Alexander Pavlovsky | Violin |
| Sergei Bresler | Violin |
| Ori Kam | Viola |
| Kyril Zlotnikov | Cello |
PROGRAM
| | |
| --- | --- |
| Prokofiev | String Quartet no. 2 opus 92 "On Kabardinian Themes" |
| Schubert | String Quartet no. 14 "Der Tod und das Mädchen" |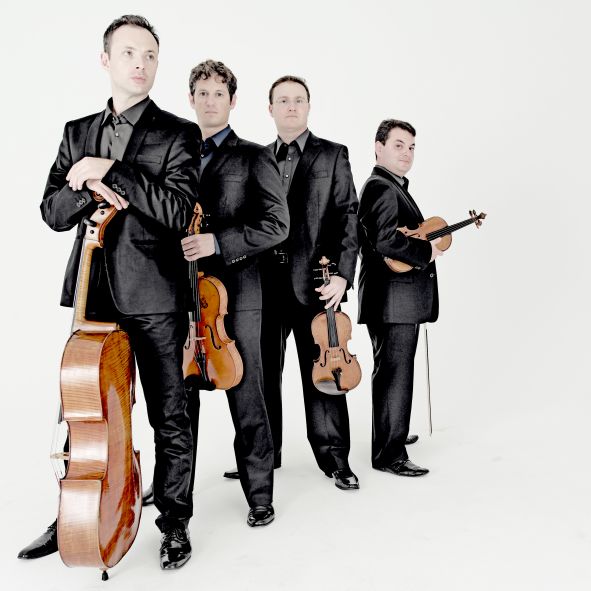 "Passion, precision, warmth, a gold blend: these are the trademarks of this excellent Israeli string quartet."
– The Times

Such was the New York Times' impression of the Jerusalem Quartet. Since the ensemble's founding in 1993 and subsequent 1996 debut, the four Israeli musicians have embarked on a journey of growth and maturation. This journey has resulted in a wide repertoire and stunning depth of expression, which carries on the string quartet tradition in a unique manner. The ensemble has found its core in a warm, full, human sound and an egalitarian balance between high and low voices. This approach allows the quartet to maintain a healthy relationship between individual expression and a transparent and respectful presentation of the composer's work. It is also the drive and motivation for the continuing refinement of its interpretations of the classical repertoire as well as exploration of new epochs.
The Jerusalem Quartet is a regular and beloved guest on the world's great concert stages. With regular bi-annual visits to North America, the quartet has performed in cities such as New York, Chicago, Los Angeles, Philadelphia, Washington, and Cleveland as well as in the Ravinia Festival. In Europe, the quartet enjoys an enthusiastic reception with regular appearances in London's Wigmore hall, Tonhalle Zürich, Munich Herkulessaal, Theatre des Champs-Elysées, as well as special guest performances at the Auditorium du Louvre Paris, the Elbphilharmonie Hamburg and festivals such as Salzburg, Verbier, Schleswig-Holstein, Schubertiade Schwarzenberg, Rheingau, Saint Petersburg white Nights and many others.
The Jerusalem Quartet records exclusively for Harmonia Mundi. The quartet's recordings, particularly the albums featuring Haydn's string quartets and Schubert's "Death and the Maiden", have been honored with numerous awards such as the Diapason d'Or and the BBC Music Magazine Award for chamber music. In 2018, the quartet released two albums, an album of Dvorak's String Quintet Op.97 and Sextet Op.48, and a much-awaited recording of the celebrated quartets by Ravel and Debussy. In the spring of 2019, the quartet will release a unique album exploring Jewish music in Central Europe between the wars and its far-reaching influence. Israeli Soprano Hila Baggio will join the quartet to perform a collection of Yiddish Cabaret songs from Warsaw in the 1920s. The quartet has commissioned composer Leonid Desyatnikov to arrange these songs, which will be sung in Yiddish. Schulhoff's Five Pieces (1924), a collection of short and light cabaret-like pieces, and Korngold's Quartet No.2 (1937) will complete the program.
Alongside its regular programs, the 2018/19 season will open with a premiere of its new Yiddish program. In October the quartet will be joined by Pinchas Zukerman and Amanda Forsyth for a US tour featuring string sextets by Strauss, Schoenberg and Tchaikovsky. March will include a return of the Brahms project featuring quartets, sonatas and quintets together with clarinetist Sharon Kam and pianist Matan Porat. After a second US tour in April, Bartok's 6 string quartets will be presented at London's Wigmore hall in May and then combined with Beethoven and performed in various venues in Bavaria.

Homepage: www.jerusalem-quartet
back
---
TUESDAY 15 December 2020
POSTPONED, November 2021 or February 2022
20.15 p.m.
CORNEILLE PIANO QUARTET (Netherlands)
| | |
| --- | --- |
| Vassilis Varvaresos | Piano |
| Noé Inui | Violin |
| Georgy Kovalev | Viols |
| Ella van Poucke | Cello |
PROGRAM
| | |
| --- | --- |
| Brahms | Piano quartet no. 2 opus 26 |
| R. Strauss | Piano quartet opus 13 |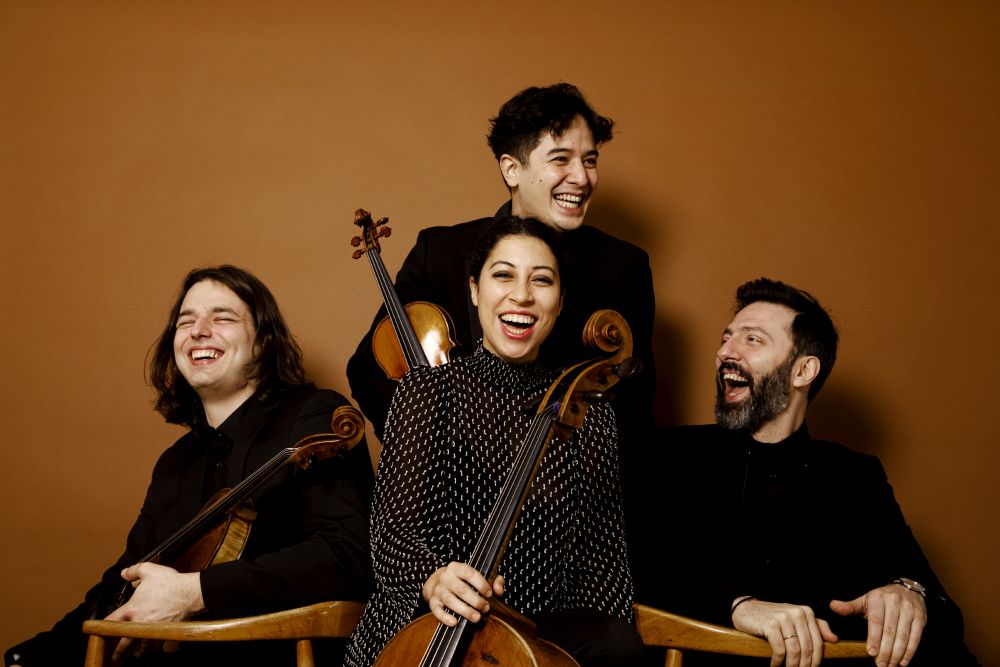 The members of this quartet, who have been praised at a young age, can also be regularly listened to individually in the large concert halls and have found each other in the Corneille Piano Quartet. Vassilis Varvaresos (Greece) was the youngest ever winner of Young Concert Artists / New York in 1998. He can be heard frequently in solo recitals, as a soloist with orchestra and in chamber music. Noé Inui (Belgium) won the 1st prize at Young Concert Artists / New York in 2009
Foto: Sarah Wijsenbeek and in 2012 the Prix Julius Baer from the Verbier Festival Academy, "awarded to an exceptionally talented musician". Together with Varvaresos, he debuted in 2016 in the Concertgebouw. Georgy Kovalev (Georgia) won various music prizes. For example, he won the 2nd prize in 2011 during the Yuri Bashmet International Competition in Germany and in 2010 during the International Brahms Competition in Pörtschach / Austria. He played with great masters such as Gidon Kremer and Emanuel Ax. Ella van Poucke (the Netherlands) also won many prizes. Such as the 1st prize of the prestigious Premio Chigiana 2017 in Siena. She won the Grachtenfestival prize in 2017, making her the "Artist in Residence" of this festival in 2018.
Homepage: www.com-pris.nl/portfolio/corneille
back
---
TUESDAY 2 February 2021
CANCELLED. Hopefully we can include them in the 2022/23 series.
20.15 p.m.
PAVEL HAAS QUARTET (Czech Republic)
| | |
| --- | --- |
| Veronika Jarůšková | Violin |
| Marek Zwiebel | Violin |
| Jirí Kabát | Viola |
| Peter Jarůšek | Cello |
PROGRAM
| | |
| --- | --- |
| Bartók | String Quartet t nr. 4 |
| Smetana | String Quartet nr. 1 "Aus meinem Leben" |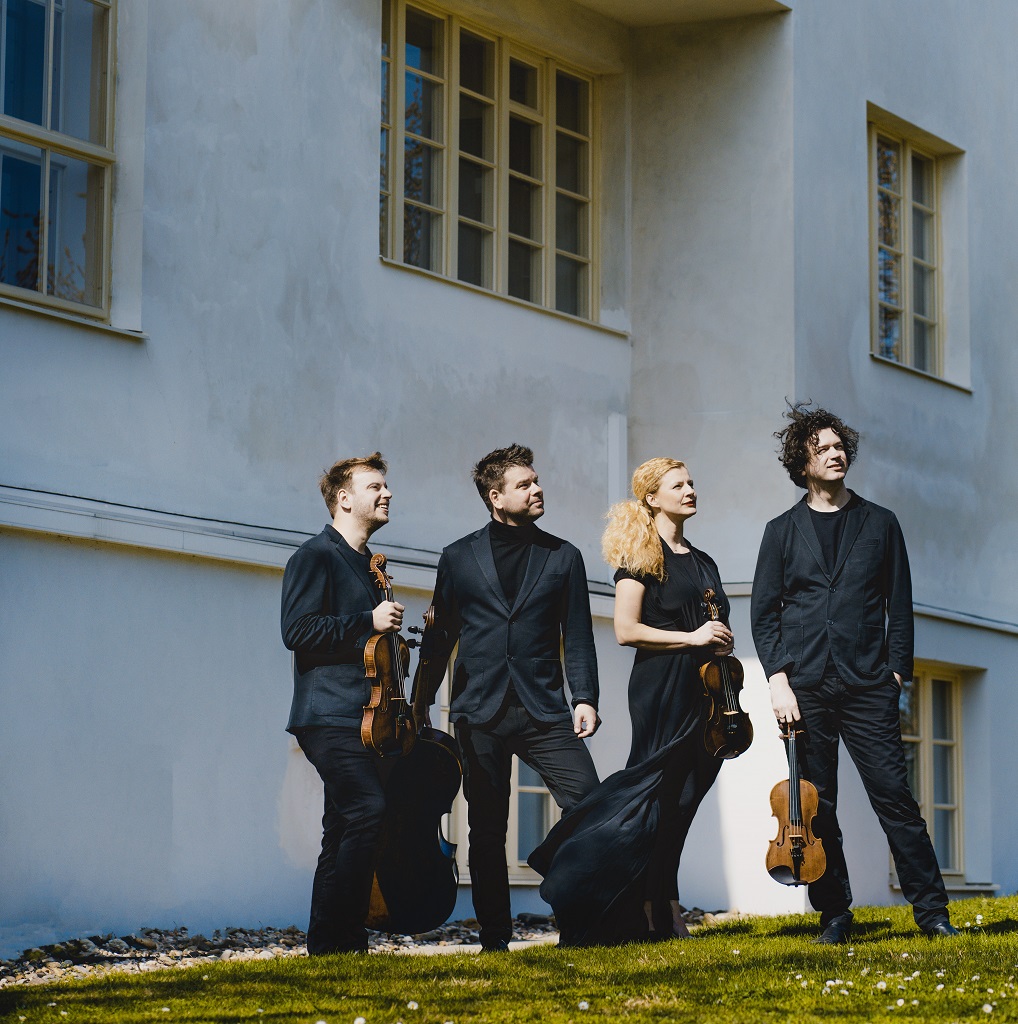 The Pavel Haas Quartet was founded in 2002 by the violinist Veronika Jarušková and the violist Pavel Nikl, who was a member of the ensemble until 2016, when he left due to family reasons. Yet their collaboration has continued – Pavel Nikl has been the ensemble's permanent guest for string quintet performances. Between 2004 and 2012, the second violin was played by Katerina Gemrotová Penková, Marie Fuxová and Eva Karová Krestová. In 2016 and 2017, the viola was played by Radim Sedmidubský.
Following their victory in the Prague Spring Festival Competition and Premio Paolo Borciani in Reggio Emilia, Italy in 2005, the Pavel Haas Quartet soon established themselves as one of the world's most exciting contemporary chamber ensembles. Performing at the most renowned concert venues around the globe, the PHQ have to date recorded six critically acclaimed CDs, which have received numerous prestigious awards. The ensemble members studied with Milan Škampa, the legendary violist of the Smetana Quartet.
In 2007, the European Concert Hall Organisation (ECHO) named the Pavel Haas Quartet one of its Rising Stars, following which they were afforded the opportunity to give numerous high-profile concert appearances all over the world. Between 2007 and 2009, the Pavel Haas Quartet held the title of BBC New Generation Artist. In 2010, the ensemble was granted a classical music fellowship from the Borletti–Buitoni Trust.
In the 2019/20 season the Quartet will return to major venues including Tonhalle Zürich, Wigmore Hall London, Philharmonie Luxembourg, Stockholm Konserthuset, Societŕ del Quartetto di Milano and festivals such as the Schubertiade. They will return to Amsterdam Muziekgebouw to perform three concerts at the String Quartet Biennale in January 2020 and will embark on their first tour to Israel with performances in Jerusalem, Tel Aviv and Haifa. Further tours will be to the US and Canada as well as to Asia, where they will return to NCPA Beijing and give their debuts in Hong Kong and Singapore.
Homepage: www.pavelhaasquartet.com
back
---
TUESDAY 16 March 2021
MONDAY 18 MAY 2022
20.15 p.m.
CALIDORE STRING QUARTET (USA)
| | |
| --- | --- |
| Jeffrey Myers | Violin |
| Ryan Meehan | Violin |
| Jeremy Berry | Viola |
| Estelle Choi | Cello |
PROGRAM
| | |
| --- | --- |
| Dvořák | String Quartet no. 12 opus 96 "The American" |
| Shaw | Three Essays for String Quartet |
| Schubert | String Quartet no. 15 opus 161 |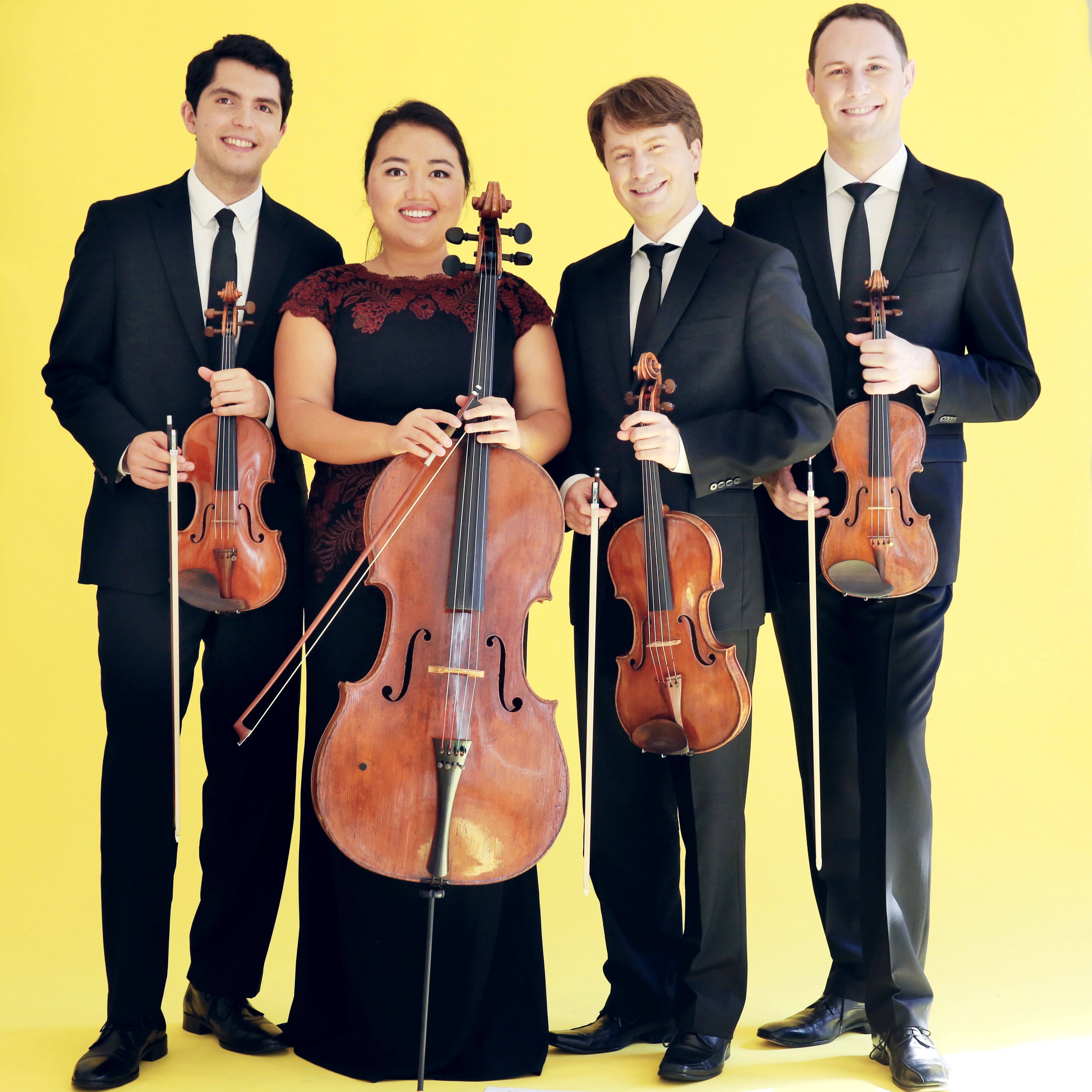 The Calidore String Quartet has been praised by The New York Times for its "deep reserves of virtuosity and irrepressible dramatic instinct" and the Los Angeles Times for its balance of "intellect and expression." The Washington Post has said that "Four more individual musicians are unimaginable, yet these speak, breathe, think and feel as one."
Recipient of a 2018 Avery Fisher Career Grant and a 2017 Lincoln Center Award for Emerging Artists, the Calidore String Quartet first made international headlines as winner of the $100,000 Grand Prize of the 2016 M-Prize Chamber Arts Competition. The quartet was the first North American ensemble to win the Borletti-Buitoni Trust Fellowship, a BBC Radio 3 New Generation Artist, and is currently in residence with the Chamber Music Society of Lincoln Center's Bowers Program (formerly CMS Two).
In the 2019?20 season, the Calidore String Quartet celebrates both its tenth anniversary and the 250th anniversary of Beethoven's birth by presenting cycles of his string quartets at the Colburn School in Los Angeles, and the Universities of Buffalo, Toronto, and Delaware. In Europe, they will perform Beethoven quartets in Antwerp, Dresden, and at and the Rheingau Musik Festival. Additionally, the Calidore premieres a new work by composer Anna Clyne inspired by Beethoven's Grosse Fuge and commissioned by Music Accord in performances at Lincoln Center, Princeton University, Penn State University, Caramoor, San Francisco Performances, and Boston's Celebrity Series. The quartet also makes its debut at Strathmore and with Kansas City's Friends of Chamber Music. In Europe, the Calidore performs in respected series in the Netherlands, Belgium, Germany, Italy, Denmark, Poland, Spain, and Switzerland. The quartet continues to collaborate with artists including pianists Marc-André Hamelin, Pavel Kolesnikov, Yeol Eum Son, Sophiko Simsive, and Henry Kramer, violists Lawrence Power and Matthew Lipman, cellist Clive Greensmith, bassist Xavier Foley, guitarist Sharon Isbin, and oboist Cristina Gómez Godoy.
Highlights of recent seasons have included performances in major venues throughout North America, Europe, and Asia including Carnegie Hall, Wigmore Hall, the Kennedy Center, Konzerthaus Berlin, Brussels's BOZAR, Cologne Philharmonie, Seoul's Kumho Art Hall, and at significant festivals including the BBC Proms, Verbier, Ravinia, Mostly Mozart, Music@Menlo, Rheingau, East Neuk, and Festspiele Mecklenburg-Vorpommern.
On the Calidore String Quartet's 2018 Signum release, Resilience, it "presents an impressive sense of ensemble" in a "cleverly devised selection of quartets" (Strad) by Mendelssohn, Prokofiev, Janácek, and Golijov. The Calidore's other commercial recordings include two albums recorded live in concert at the Music@Menlo Festival; Serenade, featuring music for string quartet from the Great War by Hindemith, Milhaud, Stravinsky, Ernst Toch, and Jacques de la Presleon the French label Editions Hortus; and their 2015 debut recording of quartets by Mendelssohn and Haydn, which prompted Gramophone to call the Calidore String Quartet "the epitome of confidence and finesse." The Calidore's members were featured as Young Artists in Residence on American Public Media's Performance Today, and their performances have been broadcast on NPR, the BBC, the CBC, SiriusXM Satellite Radio, Korean Broadcasting System, Bayerischer Rundfunk (Munich), Norddeutscher Rundfunk (Hamburg), and were aired on German national television as part of a documentary produced by ARD public broadcasting.
The Calidore has given world premieres of works by Caroline Shaw, Hannah Lash, Mark-Anthony Turnage, and Benjamin Dean Taylor. Its collaborations with esteemed artists and ensembles include Jean-Yves Thibaudet, Joshua Bell, David Shifrin, Inon Barnatan, Paul Coletti, David Finckel, Wu Han, Paul Neubauer, Ronald Leonard, and Paul Watkins among others. The Calidore has collaborated and studied closely with the Emerson Quartet and Quatuor Ébčne, and has also studied with David Finckel, Andre Roy, Arnold Steinhardt, Günter Pichler, Guillaume Sutre, Paul Coletti, and Ronald Leonard, among others.
As a passionate supporter of music education, the Calidore String Quartet is committed to mentoring and educating young musicians, students, and audiences. The Calidore serves as Quartet-in-Residence at the University of Delaware and the University of Toronto. It has conducted master classes and residencies at Princeton, Stanford, the University of Michigan, the Colburn School, Stony Brook University, UCLA, and Mercer University.
The Calidore String Quartet was founded at the Colburn School in Los Angeles in 2010. Within two years, the quartet won grand prizes in virtually all the major US chamber music competitions, including the Fischoff, Coleman, Chesapeake, and Yellow Springs competitions, and it captured top prizes at the 2012 ARD International Music Competition in Munich and the International Chamber Music Competition Hamburg. An amalgamation of "California" and "doré" (French for "golden"), the ensemble's name represents its reverence for the diversity of culture and the strong support it received from its original home: Los Angeles, California, the "golden state."
Homepage: www.calidorestringquartet.com
back
---
TUESDAY 13 April 2021
MONDAY 21 JUNE 2021
20.15 p.m.
OLIVIER PATEY and friends (The Netherlands)

| | |
| --- | --- |
| Olivier Patey | Clarinet |
| Irina Simon-Renes | Violin |
| Diet Tilanus | Violin |
| Lilli Maijala | Viola |
| Örs Köszeghy | Cello |
PROGRAM
| | |
| --- | --- |
| Haydn | String Quartet no. 2, opus 83 |
| Mozart | Clarinet Quintet in A, KV 581 |
| Golijov | "The Dreams and Prayers for Isaac the Blind" for Clarinet Quintet |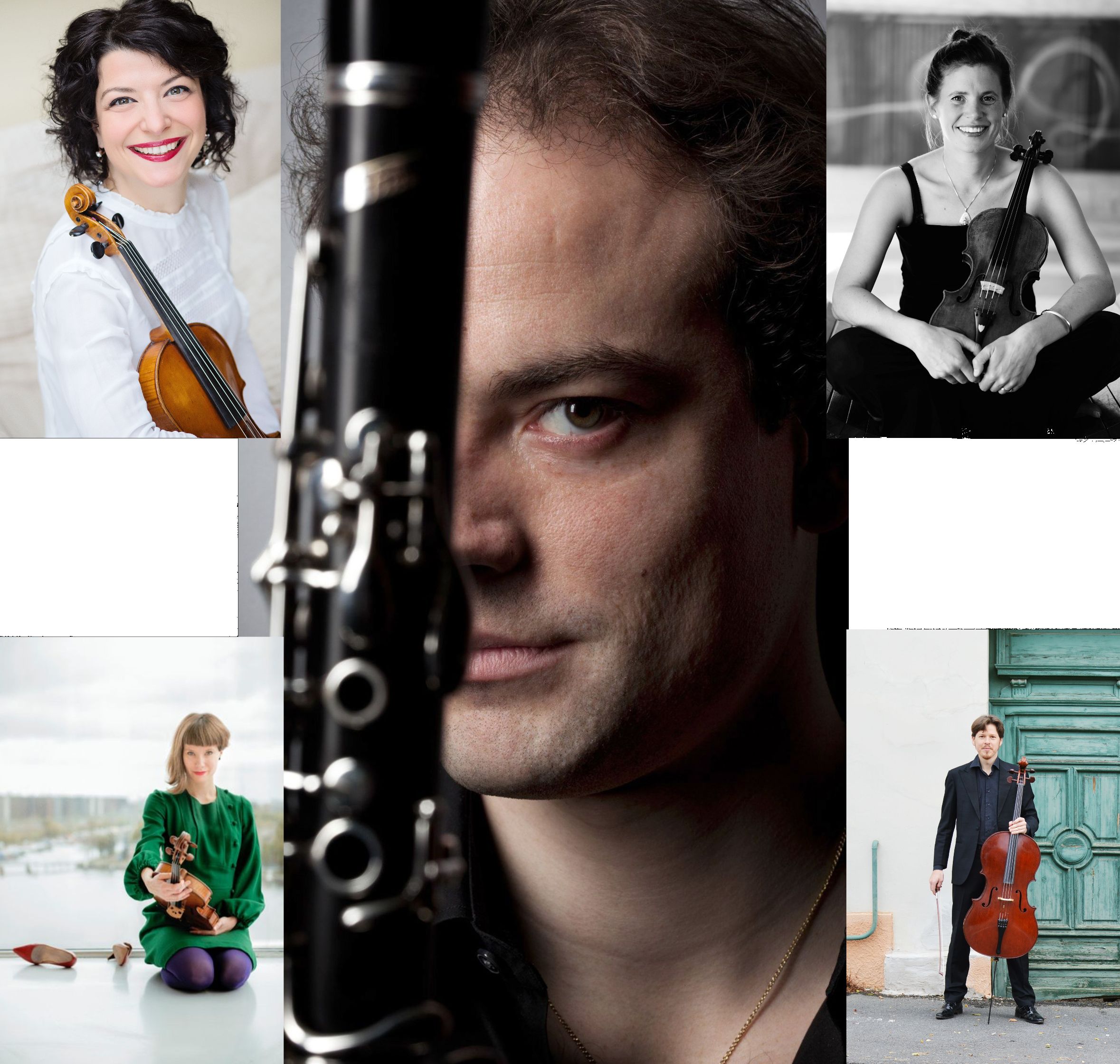 Olivier Patey has put together an ensemble of his own choice for the performance in Diligentia. The musicians, who bundle their talent for this occasion, all have their own (inter) national career. In 2013, Olivier Patey exchanged his place as solo clarinetist in the Rotterdam Philharmonic Orchestra for the same place with the Royal Concertgebouw Orchestra. The violinist Irina Simon-Renes also regularly performs as a guest with the RCO. She played at the Prinsengracht concert in 2014. From 2010 she is the artistic director of International Chamber Music Festival Wassenaar (ICMF). Diet Tilanus is a passionate chamber musician. She is a violinist in Amsterdam Sinfonietta and the Jacob Olie Trio, among others, and can also be heard frequently in the RCO. She is coach of the Dutch Youth String Orchestra. The viola player Lilli Maijala has already performed as a soloist in the Finnish symphony orchestra at the age of 17. She also plays in the RCO, performed at the ICMF and was heard together with the Dudok Quartet at the end of 2019. The cellist Örs Köszeghy has collaborated with Anner Bijlsma, played repeatedly with the Asko / Schönberg ensemble and isplaying in Amsterdam Sinfonietta since 2009.
back
---