NEWS
PROGRAM 2023/24
TICKET SALE
WHO ARE WE
ARCHIVE
season 2022/23
season 2021/22
season 2020/21
season 2019/20
season 2018/19
season 2017/18
season 2016/17
season 2015/16
season 2014/15
season 2013/14
season 2012/13
season 2011/12
season 2010/11
season 2009/10
List of works
JUBILEE 100 YERAS
LINKS

---

announcements:
Program Season 2022 - 2023
Subject to possible changes in the program
---
TUESDAY 12 OCTOBER 2022
20.15 p.m.
QUARTETTO DI CREMONA (Italy)
| | |
| --- | --- |
| Cristiano Gualco | Violin |
| Paolo Andreoli | Viool |
| Simone Gramaglia | Viola |
| Giovanni Scaglione | Cello |
PROGRAM
| | |
| --- | --- |
| Boccherini | String Quartet opus 2 no.6 in C |
| Verdi | String Quartet in e |
| Respighi | String Quartet in D |
Since its formation in 2000, the Quartetto di Cremona has established a reputation as one of the most exciting chamber ensembles on the international stage. Regularly invited to perform in major music festivals in Europe, North and South America, and Far East, they garner universal acclaim for their high level of interpretive artistry.
BBT Fellowship prize winner in 2005, the ensemble received also the "Franco Buitoni Award" (2019) for its constant contribution to the promotion of chamber music in Italy and around the world. In 2021, Quartetto di Cremona was designated a Si-Yo Master Artist™? Ensemble.
In 2020 the Cremona celebrated its first twenty years of career, with distinguished concerts and recording projects developed over consecutive seasons. Among them, the release of "Italian Postcards" (Avie Records), which assembles evocations of the Mediterranean country by four non-natives composers, such as Mozart, Wolf, Tchaikovsky and Nimrod Borenstein who wrote a brand-new piece for the occasion. The album has been very well received by the international critics.
The 2020–21 season highlights included debut performances at the Rudolfinum in Prague and at the CRR Concert Hall in Istanbul, as well as concerts in Germany, France, Scandinavia and at major Italian concert societies.
The 21/22 season includes concerts in Milan, Rome, Madrid, Linz, Montreal, Houston, the debut at Chamber Music Society of Lincoln Center in New York and at the Kuhmo International Festival (Finland). The Quartet is also collaborating with numerous artists such as Angela Hewitt, Eckart Runge, David Orlowsky, and the Emerson Quartet.
Noteworthy previous recording projects include a double CD dedicated to Schubert and featuring cellist Eckart Runge. The album was recorded with the Stradivarius set of instruments named "Paganini Quartet", on kind loan from the Nippon Music Foundation (Tokyo), and attracted high levels of acclaim in the international press. Same goes for the Beethoven's string quartets cycle: the eight volumes won prestigious awards (including Echo Klassik 2017 and ICMA 2018) and received numerous recognitions from specialized critics.
Frequently invited to present masterclasses in Europe, Asia, North and South America, the members of the quartet have been Professors at the Walter Stauffer Academy in Cremona since 2011. They are ambassadors for the international project "Friends of Stradivari" and honorary citizens of Cremona, UNESCO Cultural Heritage for violin making. They also endorse the "Le Dimore del Quartetto" project and Thomastik Infield Strings.

Website: www.quartettodicremona.com

EXPLANATORY NOTES (Dutch only)
back
---
TUESDAY 15 NOVEMBER 2022
20.15 p.m.
GOLDMUND QUARTET (Germany)

| | |
| --- | --- |
| Florian Schötz | Violin |
| Pinchas Adt | Violin |
| Christoph Vandory | Viola |
| Raphael Paratore | Cello |
PROGRAM
| | |
| --- | --- |
| Webern | "Langsamer Satz" |
| Haydn | String Quartet opus 64 nr. 5 |
| Webern | 6 Bagatellen opus 9 |
| Mendelssohn | String Quartet opus 44 nr. 2 |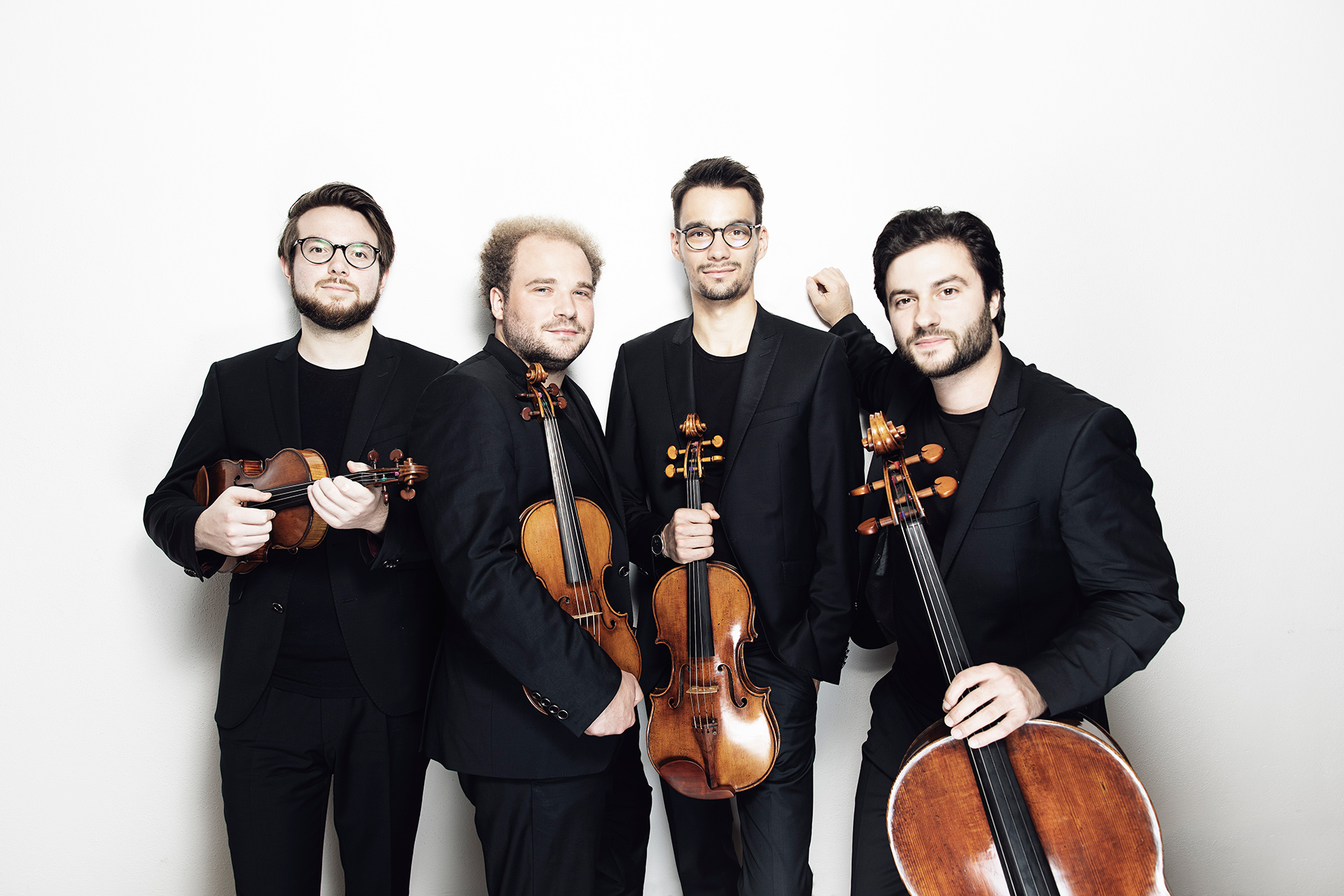 "A highly individual musicality that speaks to the audience."
Counted amongst the most exciting young string quartets, the Goldmund Quartet has with its exquisite playing and multi-faceted homogeneity given convincing interpretations of the great classical and modern works of the string quartet literature for more than a decade now. Their inwardness, unbelievably fine intonation, and phrasing worked out to the smallest detail inspire audiences worldwide.
Awarded at the prestigious 2018 International Wigmore Hall String Competition and winners of the 2018 Melbourne International Chamber Music Competition 2018, the Goldmund Quartet has been named Rising Stars of the 2019/20 season by the European Concert Hall Organisation as well as laureates of the Jürgen Ponto-Foundation. The Nippon Music Foundation has awarded the Quartet with a full set of Stradivari instruments.
Following their successful debuts at Europe's most prestigious concert halls such as Wiener Konzerthaus, Amsterdam Concertgebouw and Palau de la Musica in Barcelona, the 2021/22 season sees the Quartet continuing their ascent as one of today's most exciting young string quartets with recitals at Philharmonie Essen, Historisches Reitstadel Neumarkt, Philharmonie Köln, DeSingel Antwerp, Stockholm Konserthus and others. Other highlights this season include appearances at Beethovenfest Bonn, Heidelberger Frühling as well as a tour of North America with concerts in Kansas City, Boston, Salt Lake City, Montréal and Ottawa.
In 2020, Berlin Classics released the Quartet's third recording "Travel Diaries" featuring works by Wolfgang Rihm, Ana Sokolovic, Fazil Say and Dobrinka Tabakova which Harald Eggebrecht depicted "one of the liveliest and most inspiring string quartet CDs in recent time." (Süddeutsche Zeitung). "Travel Diaries" is a personal musical journey featuring contemporary works by composers the quartet worked with over the last ten years.
Educated at Munich's Hochschule für Musik und Theater as well as by Günther Pichler of the Alban Berg Quartet at the Escuela Superior de Música Reina Sofia and the Artemis Quartet in Berlin, the Quartet has received important artistic impulses in master classes with the Hagen, Borodin, Belcea, Ysaÿe and Cherubini quartets, Ferenc Rados, Eberhard Feltz and Alfred Brendel. The Quartet also received the Bavarian Young Artist Award and the Karl-Klinger-Prize during the 2016 ARD International Music Competition Munich.
Recitals have taken them to prestigious chamber music venues and series in Denmark, France, Norway, Spain, Italy, Switzerland, Canada, China, Australia and the US. Regular chamber music partners include artists such as Jörg Widmann, Ksenija Sidorova, Pablo Barragan, Alexey Stadler, Wies de Boevé.

Website: www.goldmundquartet.com

EXPLANATORY NOTES (Dutch only)
back
---
TUESDAY 6 DECEMBER 2022
20.15 p.m.
SITKOVETSKY PIANO TRIO (England)

| | |
| --- | --- |
| Alexander Sitkovetsky | Violin |
| Isang Enders | Cello |
| Wu Qian | Piano |
PROGRAM
| | |
| --- | --- |
| Perkin | "Freakshow" |
| Ravel | Piano Trio in a |
| Beethoven | Allegretto, WoO 39 |
| Mendelssohn | Piano Trio No. 2 in c op. 66 MWV Q 33 |
The Sitkovetsky Trio has established itself as an exceptional piano trio of today, with sensational performances in the foremost concert halls around the world. Alexander Sitkovetsky (violin) and Wu Qian (piano) were joined recently by German-Korean cellist Isang Enders to continue their journey of successful appearances. Their thoughtful and committed approach have brought the ensemble critical acclaim and invitations to renowned concert halls around the world, such as the Amsterdam Concertgebouw, Frankfurt Alte Oper, Palais des Beaux Arts, Musée du Louvre, l'Auditori Barcelona, Wigmore Hall and Lincoln Center New York to name but a few.
The 2020/21 season will see the trio return to Lincoln Center New York, Amsterdam's Concertgebouw, Alte Oper Frankfurt and Frederiksvaerk Festival in Denmark, as well as making their debuts at Tel Aviv Museum of Modern Art and the chamber music series in Bern and Basel. The trio will also return to and extensively tour the UK for performances at Wigmore Hall, St George's Bristol, Manchester Chamber Society and Cambridge Summer Music Festival amongst others. Further tours will take the trio to Spain and South America.
Highlights of the past seasons have been a residency at Hong Kong City Hall to include performances of Beethoven's triple concerto with the Hong Kong Sinfonietta, as well as chamber music. They also toured Asia performing concerts throughout South Korea, Singapore and Japan. In May 2019 they performed the world premiere of a new triple concerto by Charlotte Bray with the Philharmonia Orchestra, with further performances planned. Other appearances included the Bath Mozartfestival, St. George's Bristol, Beethovenhaus Bonn, Frederiksvaerk and Hindsgavl Festival in Denmark as well as re-invitations to the Concertgebouw Amsterdam, Rheingau Musik Festival and the Chamber Music Society of Lincoln Center.
The trio have performed the Beethoven Triple Concerto with the Konzerthausorchester Berlin, the Netherlands Philharmonic, the Munich Symphony and the Anhaltische Philharmonie Dessau. Highlights also include performances at the Festivals of Music@Menlo in California, Chamber Music Society of Lincoln Center, Hong Kong International Chamber Music Festival, and the Menuhin Festival in Gstaad, as well as at the Bergen, Rheingau and Cheltenham Music Festivals. In addition, they have embarked on numerous tours, including a tour of the USA with concerts in San Francisco and Washington DC, a China tour with performances in Beijing, Shanghai and Guangzhou and a second successful tour of Australia with Musica Viva, receiving numerous glowing reviews.
First prize-winners of the International Commerzbank Chamber Music Award, the trio is also a recipient of the NORDMETALL Chamber Music Award at the Mecklenburg-Vorpommern Festival and the Philharmonia-Martin Chamber Music Award. They have been supported by the Hattori Foundation, the Musicians Benevolent Fund, the Fidelio Trust and the Swiss Global Artistic Foundation.
They released their first recording for BIS Records in 2014 including works by Smetana, Suk and Dvorák to much critical acclaim. This led to further releases of works by Brahms and Schubert on the Wigmore Live Label and another recording for BIS of Mendelssohn Trios in 2015. Recently, they have recorded their third disc for BIS; Beethoven's Trios Op.1 and Op.70, and Allegretto in B-flat major for Piano Trio WoO 39 as part of their complete Beethoven cycle, which was released to great critical acclaim in time for the composer's birthday celebrations in spring 2020. BIS Records is planning to release a further disc in 2021: Ravel Trio and Saint-Saens Trio no 2.

Website: www.sitkovetskytrio.com

EXPLANATORY NOTES (Dutch only)
back
---
TUESDAY 10 JANUARI 2023
20.15 p.m.
Ronald Brautigam - piano (Netherlands)
Christian Poltéra - cello (Switzerland)
PROGRAM
| | |
| --- | --- |
| Brahms | Cello sonata in e opus 38 |
| Brahms | Cello sonata in F opus 99 |
One of the leading pianists of his generation, Ronald Brautigam is one of the few to perform at the highest level on modern as well as period instruments. A student of the legendary Rudolf Serkin, he has over the years established himself as an authority on the classical and early romantic composers, with an acclaimed discography on the BIS label that includes complete cycles of works by Haydn, Mozart and Beethoven as well as recordings of solo works and concertos by Kraus, Weber and Mendelssohn. Ronald Brautigam has performed with leading orchestras across the world - from the Amsterdam Concertgebouw Orchestra to the Sydney Symphony Orchestra - as well as the foremost period ensembles.
In 2009 he began what has proved a highly successful collaboration with the Kölner Akademie and its conductor Michael Alexander Willens, resulting in acclaimed recordings of the complete piano concertos of Mozart (11 discs), Beethoven, Mendelssohn and Weber. Current recording projects include the piano concertos by the Dutch-German composer Johann Wilhelm Wilms (1772 - 1847) In 2004 Ronald Brautigam released the first instalment of a 15-disc Beethoven cycle on fortepiano, prompting the reviewer of the US magazine Fanfare to envisage a series 'that challenges the very notion of playing this music on modern instruments, a stylistic paradigm shift.'
Featuring the piano sonatas, the first nine discs of the cycle were awarded an Edison Award and the prestigious Jahrespreise der Deutschen Schallplattenkritik in 2015. Besides his work for BIS, Ronald Brautigam has recorded piano concertos by Shostakovich, Hindemith and Frank Martin with the Royal Concertgebouw Orchestra conducted by Riccardo Chailly, as well as several discs with violinist Isabelle van Keulen and cellist Christian Poltéra. His recordings have earned him a number of awards including three Edisons, a Diapason d'Or de l'Année, and two MIDEM Classical Awards, for best solo piano and best concerto recording respectively.
His editorial work includes a reconstruction of the orchestral score of Beethoven's piano concerto WoO4 from 1784, as well as preparing an edition of the 5 piano concertos by Johann Wilhelm Wilms.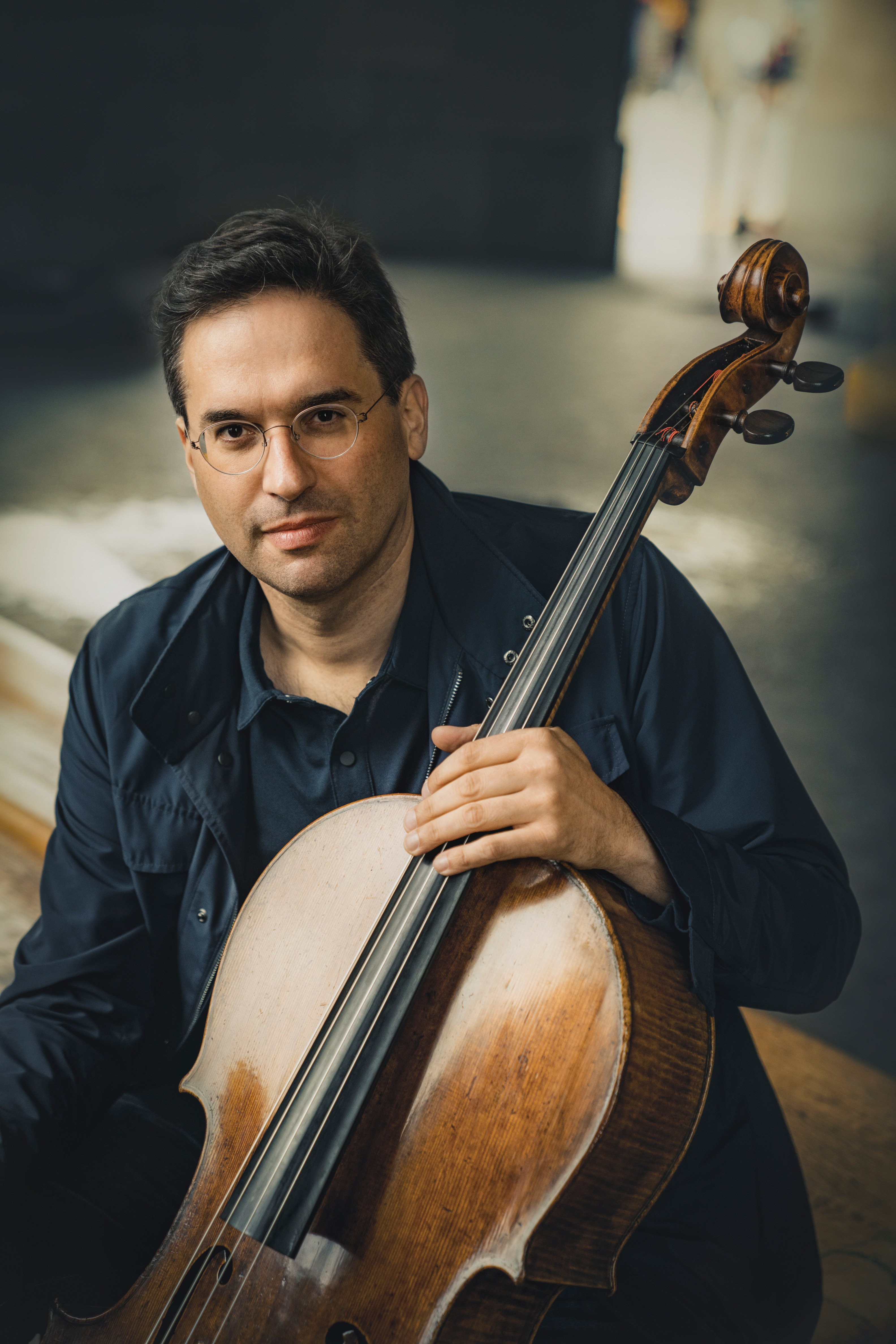 Christian Poltéra was born in Zürich. After receiving tuition from Nancy Chumachenco and Boris Pergamenschikow, he studied with Heinrich Schiff in Salzburg and Vienna.
As a soloist he works with eminent orchestras including the Munich Philharmonic Orchestra, Leipzig Gewandhaus Orchestra, Los Angeles Philharmonic, Oslo Philharmonic Orchestra, Orchestra dell'Accademia Nazionale di Santa Cecilia in Rome, Orchestre de Paris, BBC Symphony Orchestra, Orchestre Révolutionnaire et Romantique and Chamber Orchestra of Europe under such conductors as Bernard Haitink, Riccardo Chailly, Christoph von Dohnanyi, Andris Nelsons and Sir John Eliot Gardiner.
He also devotes himself intensively to chamber music together with such musicians as Gidon Kremer, Christian Tetzlaff, Leif Ove Andsnes, Mitsuko Uchida, Lars Vogt, Kathryn Stott, Esther Hoppe and Ronald Brautigam, and with the Auryn, Zehetmair and Hagen Quartets. Together with Frank Peter Zimmermann and Antoine Tamestit, Christian Poltéra has formed a string trio, the Trio Zimmermann, which performs at most prestigious concert venues and festivals all over Europe.
In 2004 he received the Borletti-Buitoni Award and was selected as a BBC New Generation Artist.
He is a regular guest at renowned festivals (such as Salzburg, Lucerne, Berlin, Edinburgh and Vienna) and made his BBC Proms début in 2007. Christian Poltéra's discography, which has won acclaim from the international press, reflects his varied repertoire that includes the concertos by Dvorak, Dutilleux, Lutoslawski, Walton, Hindemith and Barber as well as chamber music by Prokofiev, Fauré, Beethoven and Schubert.
Christian Poltéra teaches at the Lucerne University. He plays a Antonio Casini cello built in 1675 and the famous "Mara" Stradivari from 1711.

Website Brautigam: www.ronaldbrautigam.com
Website Poltera: www.christianpoltera.com

EXPLANATORY NOTES (Dutch only)
back
---
TUESDAY 28 FEBRUARI 2023
20.15 p.m.
ANIMATO KWARTET (Netherlands)
| | |
| --- | --- |
| Inga Våga Gaustad | Violin |
| Tim Brackman | Violin |
| Elisa Karen Tavenier | Viola |
| Pieter de Koe | Cello |
PROGRAM
| | |
| --- | --- |
| Haydn | String Quartet opus 33 nr. 1 |
| Janáček | String Quartet nr. 2, "Intieme Briefe" |
| Schumann | String Quartet opus 41 nr. 1 |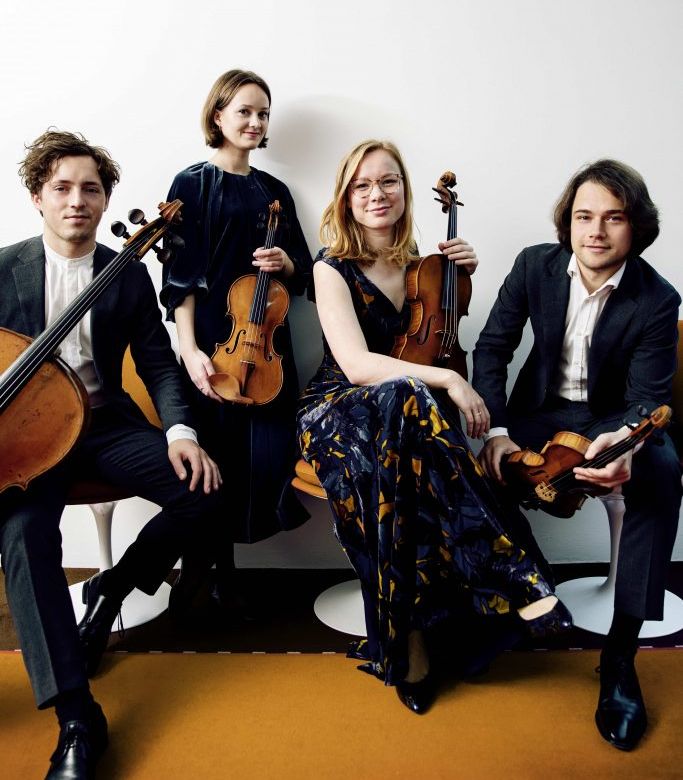 The Animato Quartet is widely considered to be one of the most promising young string quartets in the Netherlands with its members being praised for their passionate, spontaneous playing and their powerful on-stage presence. Founded in 2013, their programs contain a combination of classical music with inspiration from the abundant string quartet repertoire and contemporary compositions some of which have been especially composed for the ensemble.
Within the Netherlands the quartet has performed in the Kleine Zaal of Het Concertgebouw in Amsterdam, Tivoli-Vredenburg in Utrecht and Muziekgebouw aan 't IJ in Amsterdam during the 2020 String Quartet Biennale. They played at festivals such as the Utrecht International Chamber Music Festival and outside the Netherlands, in Portugal, Germany, Norway and France.
The Animato has been chosen from more than 40 applications as one of the four laureates of the Dutch Classical Talent Award 2021-'22. In the last months the musicians have been working with specialized coaches on their program, with which they will tour thirteen Dutch concert halls from November '21 The jury about this string quartet: "Four top players with a vibrant energy, they will wrap you around from the first note! …This quartet is the great promise of Dutch string quartets."
In September 2021, the quartet received a third prize, and the special Jury Prize, at the famous International Chamber Music Competition in Trondheim. The Animato quartet was invited to participate in the prominent Verbier Festival Academy in July 2022. On top of that the quartet has been selected as one of the only ten quartets competing in the prestigious Banff International String Quartet Competition in August 2022.
In 2014, not long after their inauguration, the Animato Quartet received an award for 'Artistic Excellence' at the Brazilian 'Festival International de Inverno de Campos do Jordao'. In the same year, the quartet was laureate of the Grachtenfestival Competition (2014). Later, in 2017 the quartet received the prestigious string quartet grant from the Kersjes Foundation, one of the largest private culture funds in the Netherlands supporting young talent.
Being 'artist in residence' as part of the post-grad program of the Dutch String Quartet Academy, the Animato feels hugely privileged to work with inspiring artists and coaches such as Marc Danel and Eberhard Feltz. Approximately four times per year, the Animato Quartet participates in sessions organized by the European Chamber Music Academy, where they receive intensive coaching from Hatto Beyerle and Johannes Meissl. Alongside these sessions, their development both as musicians and as a quartet has also greatly benefited from lessons by top musicians such as Anner Bylsma, Jan-Willem de Vriend, Alfred Brendel, Gerhard Schultz and Vera Beths.
The Animato Quartet is also supported by Le Dimore del Quartetto, an organization focused on helping young string quartets in their careers: they provide opportunities for study and performances in historic venues in Italy.
With pianist Hanna Shybayeva, they recorded in 2020 and 2021 both Beethoven's Piano Concerto nr. 1 in a transcription for string quintet as well as Piano Concerto nr. 4. In the near future, the quartet is looking forward to new challenges, such as the Concerto for violin, piano and string quartet by Ernest Chausson, with Noé Inui and Vassilis Varvaresos.
The Animato Quartet feels grateful to play on beautiful instruments. Tim's violin (B. Gabrielli-Florence, 1764), Inga's violin (Riccardo Antoniazzi) and the cello of Pieter (Joh. Th. Cuypers-The Hague, 1775-'80) are on loan from the Dutch Musical Instruments Foundation (NMF). Elisa Karen is playing a viola by Daniel Royé, purchased with the support of Stichting Eigen Muziekinstrument (SEM).

Website: www.animatokwartet.nl

EXPLANATORY NOTES (Dutch only)
back
---
TUESDAY 4 APRIL 2023
20.15 p.m.
SIMPLY QUARTET (Austria/China)
| | |
| --- | --- |
| Danfeng Shen | Violin |
| Antonia Rankersberger | Violin |
| Xiang Lyu | Viola |
| Ivan Valentin Hollup Roald | Cello |
PROGRAM
| | |
| --- | --- |
| Webern | Fünf Sätze |
| Schubert | String Quartet nr. 13 opus 29 ("Rosamunde") |
| Dvořák | String Quartet nr. 13 opus 106 |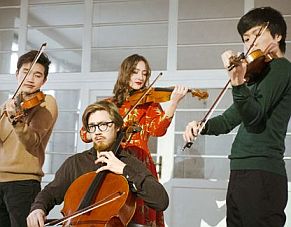 "From Chinese philosophy comes the idea of a great entirety in which opposites depend on and complement each other. Based on this idea, we combine complexity and simplicity. As four different individuals, together we shape the unity of the string quartet, the royal genre of chamber music."
The Simply Quartet is one of the most promising string quartets of the new generation and is composed of musicians from three different nations. The members of the ensemble come from China, Norway and Austria and, as a young, international ensemble, have already acquired a great reputation within the chamber music scene. The Simply Quartet is continuously searching for a deep understanding of the inherent language of music: from the early classical works to modern string quartet literature. They place great emphasis on combining the three contrasting cultures upon which they draw their inspiration to develop a musical language of their own; by exploring works from each of their cultures, they deepen their knowledge of different sound worlds.
Originally founded in Shanghai under the auspices of Jensen Horn-Sin Lam, the quartet moved to Vienna to intensively explore the essence and origins of quartet playing - at the Joseph Haydn Institute of the University of Music and Performing Arts Vienna, the ensemble studies with Johannes Meissl, who has become the ensemble's most important mentor since the move to Austria. The quartet captures further influences in Günter Pichler's class at the Reina Sofía School of Music in Madrid, where it has been a member since 2020.
The quartet has already been awarded four first prizes at renowned chamber music competitions: At the International Carl Nielsen Competition in Copenhagen & the"Quatuor á Bordeaux" in 2019, the "Franz Schubert and the Music of Modernity" in Graz in 2018 and in 2017 at the International Joseph Haydn Chamber Music Competition in Vienna.
In the 2021/2022 season, the Simply Quartet will be one of the selected ensembles of the ECHO Rising Stars series with concerts at BOZAR Brussels, the Festspielhaus Baden Baden and the Concertgebouw Amsterdam, among others. The Austrian composer Julia Lacherstorfer is composing a string quartet for these tours. In addition to the ECHO Rising Stars concerts, the ensemble will make its debut at the Berlin Philharmonie and the Philharmonie de Paris in the same season.
At the Vienna Konzerthaus, the Simply Quartet is part of the Great Talent programme. In addition to concerts, the artists receive intensive artistic support within the framework of this programme.
Primarius Danfeng Shen plays a violin by Giovanni Battista Guadagnini from 1753, which is at his disposal thanks to a generous loan from MERITO String Instruments Trust GmbH. Antonia Rankersberger plays a violin by Ferdinando Gagliano from 1770-1780 (Naples), made available to her by the Austrian National Bank.

Website: www.simplyquartet.com

EXPLANATORY NOTES (Dutch only)
back
---